What happens with EXIF information when uploading photos?
Last updated November 7, 2011
---
EXIF display and handling when uploading
EXIF extraction is currently available only for JPEG images. Future support may come for PNG, RAW and videos. Depending on the source you select when uploading photos you may or not have EXIF data. When you add photos to the Upload list, PhotoExplorer will immediately indicate whether the EXIF information from the photo was obtained successfully. A green [EXIF] subtitle will indicate success and a red [NO EXIF] indicates the EXIF information is not present or can't be obtained.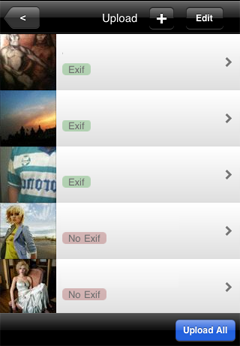 Source: Photo Library
Full EXIF information is available for:
Photos that come directly from the iPhone/iPad camera
Imported photos with the Camera Connection kit.
EXIF may or not be available for:
Photos processed or edited in other apps, as the apps may remove EXIF info.
Photos saved from the browser or other apps, as they may discard EXIF info.
EXIF is not available for:
Photos synchronized from your desktop computer (Apple discards EXIF information).Only GPS information may be available.
Photos saved to iCloud (PhotoStream). When you save photos to iCloud, EXIF information is discarded.
Source: Live Camera
When in Upload you select Live Camera as the source, EXIF is available.
Source: iTunes File Sharing
When you use iTunes File Sharing (drag and drop files from your Mac/PC with iTunes) full EXIF information is available.