How to hide the quick action toolbar when in Slideshow mode?
Last updated May 4, 2013
---
The quick action toolbar: Share, Favorite and Stack in Sideshow mode
When you are in Sideshow mode you can share, favorite or send a photo to the stack without having to leave sideshow mode. This is possible with the quick action toolbar.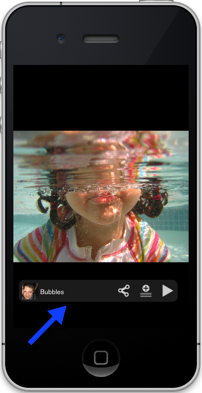 Display or Hide the quick action toolbar
To show the quick toolbar drag it from the bottom from the screen. The quick action toolbar will remain visible while the slideshow is running, until you drag it to the bottom of the screen. If you have not enabled the tap and hold action, you can also display or hide it with a tap and hold. Tip: If you don't want to hide it, but want to change the location, you can drag it anywhere on the screen.